Net Neutrality = Freedom

I am a proud American and defender of the Constitution and the Bill of Rights. Therefore I support net neutrality.
What does that mean?

It means I do not want any business, big or small, to control the speed at which I receive information. It is downright rotten of the big telecos to start wanting to make more money from the American people by charging us for faster bandwidth. I don't think so.

Since I am a Webmaster and teach making Websites, I felt it was time I made a page to support Net Neutrality. Here it is. Below are some links and a resources for understanding this issue and helping to keep your Internet - your information and voice - free from charge.

Explanation of Net Neutrality: The Oatmeal has an excellent explanation about Net Neutrality: Dear Senator Ted Cruz. So does John Oliver - see video below.
Finally, John Oliver Says It All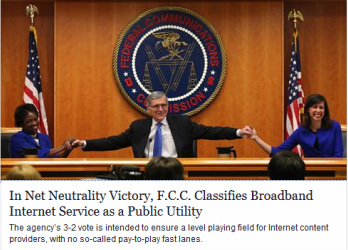 We WON!

February 27, 2015 marks a victor for net neutrality!


Now please keep the net neutral and out of the control of big business and make it accessible to everyone! Go to my
Net Neutrality
page for more information.
---